Podcast: Play in new window | Download (Duration: 1:19:46 — 73.0MB)
Subscribe: Apple Podcasts | Android | Google Play | Stitcher | TuneIn
The Wicked Library wishes to thank our Season Seven partner, RODE Microphones, for their support. All in house vocals are recorded exclusively on RODE Microphones.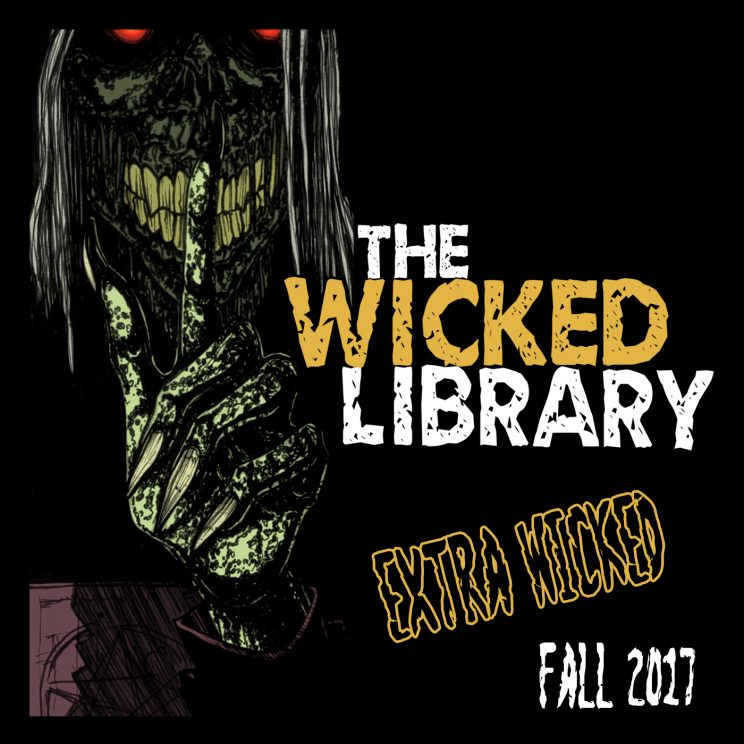 STORIES:

This week, thanks to our Patreon supporters and some very Wicked Authors, we have been able to produce two Extra Wicked tales for you all as well as three delightfully twisted tunes by Pandemonium's Calliopi, courtesy of Zach Hill.
These stories are heard first by our Patreon supporters with a new tale being released in July and August. But, since the goal of The Wicked Library is always the promotion of our writers, artists, narrators, and composers, we wanted to share these bonus tales with our entire audience. Please support the authors by finding their other work and adding it to your collection, and help keep the extra stories coming by supporting the show you love on Patreon.
"What's in The Box", A Song by Pandemonium's Calliopi

"Devil's Hour" by Julia Benally, told by Nichole Goodnight and Daniel Foytik: When Karla's Uncle Mario takes her out to get ice cream, he brings her to a mansion in the middle of the forest. Wholly unaware that she's supposed to be taking part in a heist, the young girl explores the great house and discovers a deadly secret within its pristine walls.
"The Proposal", A Song by Pandemonium's Calliopi
"The Case of the Black Lodge" by Aaron Vlek, told by David Ault and Erika Sanderson: A group of seven gentlemen gather regularly to hear the exploits of their good friend, renowned traveler, scholar, and detective of all things arcane and terrifying to the faint of heart, Geoffrey Sykes Vermillion.On one particular blustery October evening they are joined by another who happens to be the subject of this night's disquieting tale. Six ghastly murders, two magic lodges locked in deadly combat, and a beautiful and powerful woman at the center of it all.
"El Diablo" A Song by Pandemonium's Calliopi
---
Credits
Producer / Host: Daniel Foytik | Executive Producers: Cynthia Lowman / Nelson W. Pyles | Voice of the Librarian: Nelson W. Pyles
---
Production Music
"The Wicked Library Theme"
Anthony Rowsick of Novus (novus3.bandcamp.com)
"In the Wicked Library" (Introduction, Transitions)
Nico Vettese (wetalkofdreams.com)
"Going out Wicked" (Credits)
Daniel Foytik (9thstory.com)
"A Laughing Librarian" (Outro)
Daniel Foytik (9thstory.com)
All songs by Pandemonium's Calliopi can be found on BandCamp
---
Audio Recording
Final mix by Daniel Foytik, 9th Story Studios: www.9thstory.com
9th Story Studios:
Host / Producer: Daniel Foytik | Executive Producers: Cynthia Lowman, Nelson W. Pyles
Visit The Wicked Library:
On Facebook: www.facebook.com/thewickedlibrary
On Twitter: @wickedlibrary
---
The Wicked Library is a proud member of the Dark Myths Collective