Podcast: Play in new window | Download (Duration: 1:03:51 — 58.5MB)
Subscribe: Apple Podcasts | Android | Google Play | Stitcher | TuneIn
The Wicked Library wishes to thank our Season Seven partner, RODE Microphones, for their support. All in house vocals are recorded exclusively on RODE Microphones.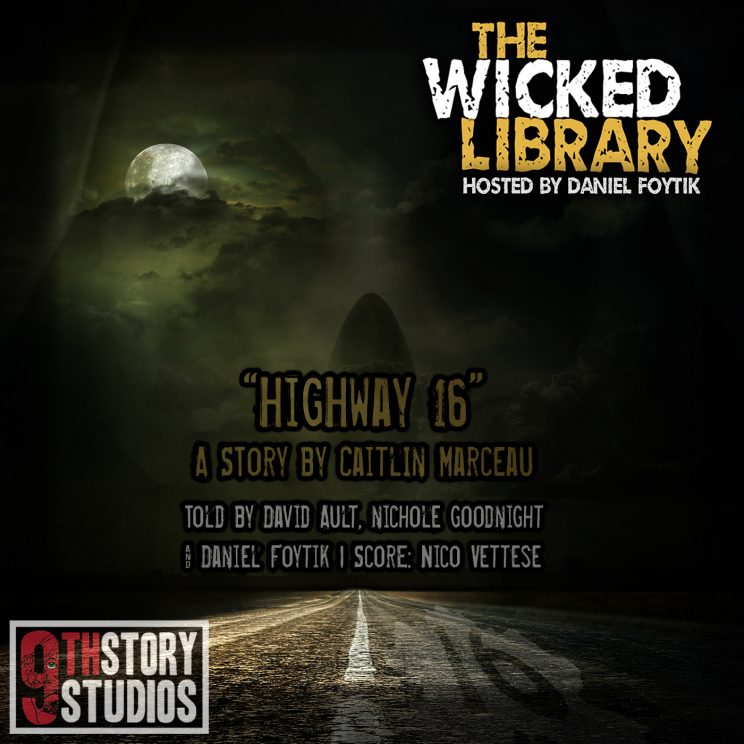 Caitlin Marceau returns to The Wicked Library with this dark tale.
STORY:
When a young woman stops to help an old man on an empty highway, not all is as it seems. The man is looking for more than assistance and what he needs is more than she's willing to give.
The story is based upon the Highway of Tears, a Canadian highway from British Columbia to Alberta. The bodies of 19 First Nation's women have been discovered along the stretch of road, but more than 40 women are said to have been taken from Highway 16 over the years.
---
Check out the new podcast collective The Wicked Library has joined, Dark Myths.
The Wicked Library is a proud member of the Society 13 Podcast Network.
Links mentioned in this episode:
"Follow" Horror Event | Shadows at the Door Anthology (audio book) | Lifehacker Article
---
Credits
Author: Caitlin Marceau | Storytellers: Daniel Foytik, David Ault, Nichole Goodnight | Art: Daniel Foytik | Interview: Jeanette Andromeda | Voice of the Librarian: Nelson W. Pyles | Host / Producer: Daniel Foytik | Executive Producers: Cynthia Lowman, Nelson W. Pyles
---
Production Music
"The Wicked Library Theme"
Anthony Rowsick of Novus (novus3.bandcamp.com)
"In the Wicked Library" (Introduction, Transitions)
Nico Vettese (wetalkofdreams.com)
Custom Score (Story)
Nico Vettese (wetalkofdreams.com)
"Going out Wicked" (Credits)
Daniel Foytik (9thstory.com)
"A Laughing Librarian" (Outro)
Daniel Foytik (9thstory.com)
---
Audio Recording
Final mix by Daniel Foytik, 9th Story Studios: www.9thstory.com
9th Story Studios:
Host / Producer: Daniel Foytik | Executive Producers: Cynthia Lowman, Nelson W. Pyles
Visit The Wicked Library:
On Facebook: www.facebook.com/thewickedlibrary
On Twitter: @wickedlibrary
---
The Wicked Library is a proud member of the the Dark Myths Collective and the Society 13 Podcast Network