Podcast: Play in new window | Download (Duration: 2:21:21 — 129.4MB)
Subscribe: Apple Podcasts | Android | Google Play | Stitcher | TuneIn
The Wicked Library wishes to thank our Season Seven partner, RODE Microphones, for their support. All in house vocals are recorded exclusively on RODE Microphones.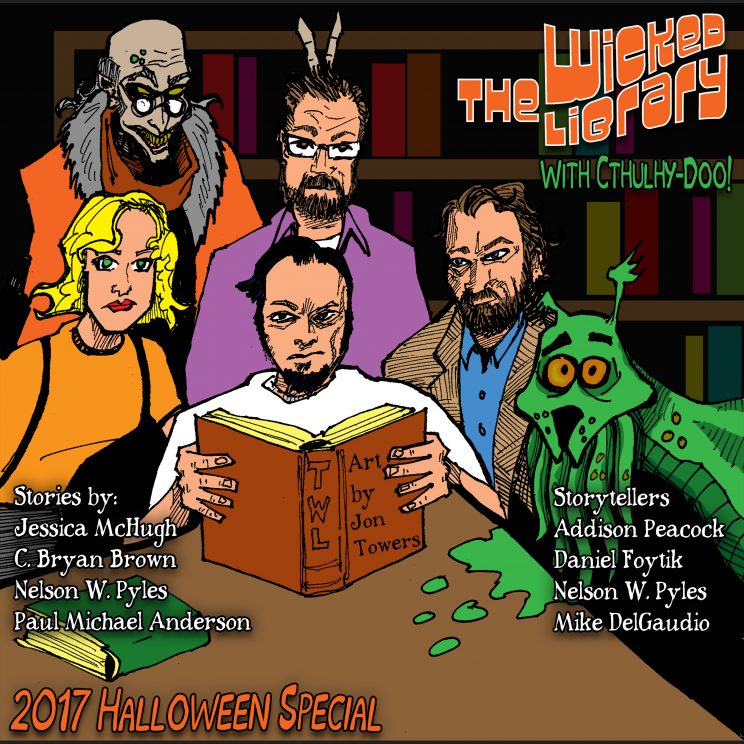 STORIES:

This week, thanks to our Patreon supporters we've pulled the desiccated corpses of three lost tales from the ether of Season One, and completely resurrected them, with new voices, new music and propped them up for you to enjoy. As an added bit of fun, Nelson W. Pyles, the creator and and original host / storyteller of the show, is in the studio to help introduce the stories.
This episode really is made possible thanks to our Patreon supporters, as the custom scores and voice actors do not come for free. If you enjoy this episode and these stories, please support the authors by finding their other work and adding it to your collection, and help keep the extra stories coming by supporting the show you love on Patreon.
Credits
Art: Jon Towers | Music: Shawn Parke and Kimberly Henninger ("Fishing Hole"), Nico Vettese (All others) | Producer / Host: Daniel Foytik | Executive Producers: Cynthia Lowman / Nelson W. Pyles | Voice of the Librarian: Nelson W. Pyles
---
Production Music
"The Wicked Library Theme"
Anthony Rowsick of Novus (novus3.bandcamp.com)
---
Audio Recording
Final mix by Daniel Foytik, 9th Story Studios: www.9thstory.com
9th Story Studios:
Host / Producer: Daniel Foytik | Executive Producers: Cynthia Lowman, Nelson W. Pyles
Visit The Wicked Library:
On Facebook: www.facebook.com/thewickedlibrary
On Twitter: @wickedlibrary
---
The Wicked Library is a proud member of the Dark Myths Collective and the Society 13 Podcast Network