Podcast: Play in new window | Download (Duration: 1:18:05 — 71.5MB)
Subscribe: Apple Podcasts | Android | Google Play | Stitcher | TuneIn
The Wicked Library wishes to thank our Season Seven partner, RODE Microphones, for their support. All in house vocals are recorded exclusively on RODE Microphones.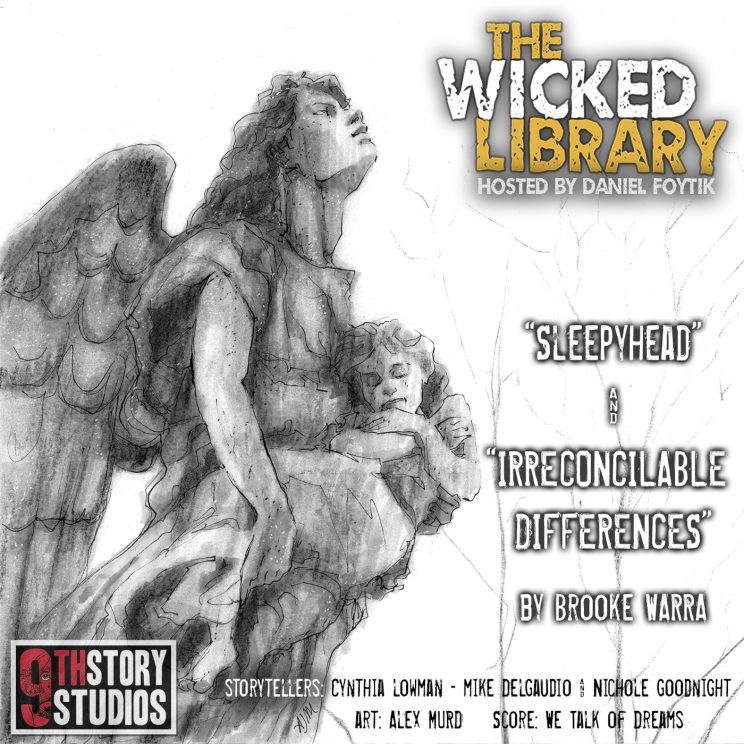 It's our Season Finale! In her first full length episode, Brooke Warra helps us close out season 7 with two Wicked tales.
"Sleepyhead" A girl struggles to be accepted until fate ties her to boy and everything changes.

"Irreconcilable Differences" A man deals with a terrible loss the best way he knows how for many years, until he's presented with a choice.
---
Check out the new podcast collective The Wicked Library has joined, Dark Myths.
---
Credits
Author: Brooke Warra | Storytellers: Cynthia Lowman ("Sleepyhead"), Mike DelGaudio & Nichole Goodnight  | Art: Alex J. Murd | Interview: Jeanette Andromeda | Custom Score: Nico Vettese | Voice of the Librarian: Nelson W. Pyles | Voice of Victoria: Amber Collins | Host / Producer: Daniel Foytik | Executive Producers: Cynthia Lowman, Nelson W. Pyles
---
Production Music
"The Wicked Library Theme"
Anthony Rowsick of Novus (novus3.bandcamp.com)
"In the Wicked Library" (Introduction, Transitions)
Nico Vettese (wetalkofdreams.com)
"Going out Wicked" (Credits)
Daniel Foytik (9thstory.com)
"A Laughing Librarian" (Outro)
Daniel Foytik (9thstory.com)
---
Audio Recording
Final mix by Daniel Foytik, 9th Story Studios: www.9thstory.com
9th Story Studios:
Host / Producer: Daniel Foytik | Executive Producers: Cynthia Lowman, Nelson W. Pyles
Visit The Wicked Library:
On Facebook: www.facebook.com/thewickedlibrary
On Twitter: @wickedlibrary
---
The Wicked Library is a proud member of the the Dark Myths Collective and the Society 13 Podcast Network