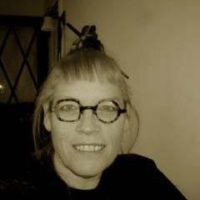 Aaron Vlek is a storyteller who works with the trickster mythos in its role as  bringer of delight and proponent of disquieting humors. Some of her (yes, her) stories center around the goings on of the jinn, and of a universal imagining of the Native American character, Coyote. Some works are historical in setting while others occupy a contemporary and urban landscape. She also indulges frequently in the reimagining of classic themes of horror and the occult. Aaron is a graduate of SarahLawrence College.
"13" appeared in The Wicked Library Live Halloween Special, October 31, 2016. "The Accursed Lineage" appears in the Alban Lake anthology Miskatonic Dreams, November 2016, "Dear Cousin Gavin" appears on The Wicked Library podcast #622, March 2016. "Twice Per Annum" appears in Ink Stains Anthology #1, March 2016. "The Black Meal," a work of speculative horror appeared in the October 2015 issue of Outposts of Beyond. "Some Thoughts on the Blind Owl" appeared in the Surreal Nightmares Anthology in April, 2016, and "The Wet Man" appeared on The Lift podcast in July 2016. "The Dreams of Which Ghouls are Made" appeared in the Ghost's Redemption anthology in 2016. "Domine Canè," a short piece of speculative horror with a historic theme, appeared in the April 2015 issue of Bards and Sages Quarterly, Vol. VII, Issue II. Additional stories have been accepted for publication throughout 2016.
For Season 7, Aaron acted as an Assistant Librarian, helping the Librarian sort through all the submissions and struggle to narrow them down to just 24 episodes.
 Amazon  | Website | Alban Lake | Facebook
---
Stories ON THE WICKED LIBRARY: