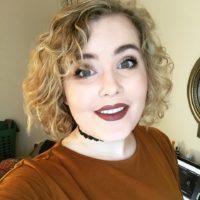 Addison Peacock was born in Atlanta, Georgia, but grew up in the beautiful Shenandoah Valley in Northern Virginia. She is in the process of earning her BFA in Musical Theatre from Shenandoah Conservatory, where she trains as an actor, singer, and dancer. Her special skills include yoga instruction, baby alligator impressions, and preparing the best brunch foods in town.
She loves storytelling in all of its forms, and has been telling stories as long as she has been able to read them. She used to spend long car trips reading to her parents from her favorite books, and stories she had written herself.
You can also find Addison being scary on The Nosleep Podcast and talking about monsters, mayhem, and mothman on her creepy comedy podcast The Cryptid Keeper.
Narration on the Wicked Library: