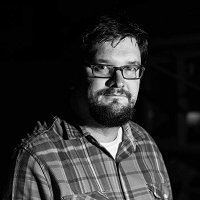 Christopher Long is a writer hiding in the later end of his thirties. He spends the majority of his free time sending out ghost stories to help deal with his own, festering morbid paranoia.
He lives in Leicestershire with his wife, Sam, and things are going well. Which makes you wonder where all the horror is coming from. They used to live in Rugby, but Sam had started to notice a lot of Chris' stories were set in some worryingly familiar rooms.
So far, the new house hasn't been borrowed in the name of horror. So far...
Website | Amazon | Twitter | Facebook | Shadows At The Door: 1 , 2
---
STORIES ON THE WICKED LIBRARY: