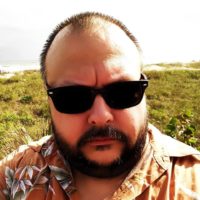 Daniel Foytik is the host and producer three podcasts including The Wicked Library and The Lift, which he created and produces with Cynthia Lowman, and can occasionally be heard appearing on a few others. Daniel is storyteller who explores his love of story in all its forms through writing, narration, audio production, and podcasting. His original podcast 9th Story Podcast  was recently passed on to new hosts, Jeanette Andromeda and Immortal Alexander of the popular blog Horror Made, and features interviews and discussions on storytelling in all its forms.
Daniel's first published short story "A Little Light Gets In" appears in and anthology from Shadows at the Door, edited by Mark Nixon. The book is available from Amazon in Kindle and Audible formats, with the audiobook version narrated by Daniel and Cynthia Lowman.
Daniel's production entity— 9th Story Studios — creates:
The Wicked Library (with Executive Producer Cynthia Lowman)
9th Story Podcast, a discussion show devoted to exploring story and storytelling in all forms (hosted by Jeanette Andromeda and Immortal Alexander starting with Season 5)
The Lift (with Co-Producer Cynthia Lowman)
Listen, a show featuring recordings of live storytellers telling traditional stories
Inked After Dark, an adult industry discussion and interview show devoted to tattooed adult stars (with Dick Dangle and InkedAngels.com)
Daniel is a frequent guest on The Caveman Mafia Podcast.
Website: 9thstory.com
Twitter: @dfoytik / @9thstory
Facebook: facebook.com/dfoytik
Other Projects: victoriaslift.com

---
Stories on the Wicked Library: