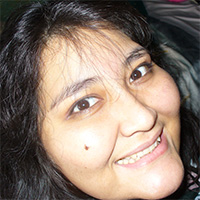 Julia Benally, on one dark and stormy night (seriously) was born to the Bear Clan of the White Mountain Apache Tribe.
She discovered my love of story telling at a very young age and then she put the stories to paper. She loves to cross stitch, swing her nun-chucks (even when she hits myself), sing, hunt and fish. She makes other people eat the fish mind you. She loves making apple pie, especially from her own trees outside.
Julia has been featured in Sanitarium Magazine, Snapping Twig Magazine and A Shadow of Autumn Anthology.
Website: sparrowincarnate.blogspot.com
Google+: plus.google.com/108631203905473182151
Twitter: @SparrowCove
Facebook: facebook.com/julia.benally.7
---
Stories ON THE WICKED LIBRARY: