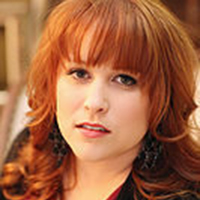 Meg Hafdahl, a horror and suspense author, was raised in both British Columbia and Minnesota. Meg's short story "Dark Things" was a finalist for the 2014 Jane Austen Short Story Award.
Her female driven horror stories have appeared in anthologies such as Spider Road Press' Eve's Requiem: Tales of Women, Mystery and Horror. Her first book, Twisted Reveries: Thirteen Tales of the Macabre was released by Inklings Publishing in 2015. Twisted Reveries Volume II: Tales from Willoughby arrived in October 2016, and her premiere horror novel is coming in October 2017.
She lives in Minnesota with her husband and two young sons.
Amazon | Website | Twitter | Facebook
---
Stories ON THE WICKED LIBRARY: