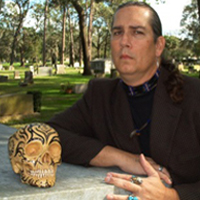 Having served in the Air Force, and the former owner of a restaurant and lounge, Owl Goingback became a full time writer in 1987. He has written numerous novels, children's books, screenplays, and short stories.
His novel CROTA won the Bram Stoker Award for Best First Novel, and was one of four finalists in the Best Novel category. His novel DARKER THAN NIGHT was also a Stoker Nominee for best novel of the year. Both books draw upon his Native American heritage to tell a story of supernatural suspense, as do his other novels EVIL WHISPERS, BREED and SHAMAN MOON.
Owl's children's books, EAGLE FEATHERS and THE GIFT, have received critical acclaim from parents and teachers, and are currently used in numerous reading programs. EAGLE FEATHERS is a Storytelling World Awards Honor Recipient.
In addition to his writing under his own name, Owl has also ghostwritten several books for Hollywood celebrities. He has also lectured throughout the country on the customs and folklore of the American Indians.
Recently, Owl converted four of his novels into electronic format for the Kindle. He is currently working on a dark fantasy trilogy and several screenplays. For more information about the author, please visit his website owlgoingback.com.
Website: owlgoingback.com
Amazon: amazon.com/author/owlgoingback
Twitter: @ogoingback
---
STORIES ON THE WICKED LIBRARY:
COMING SOON: "Sealed With a Kiss"