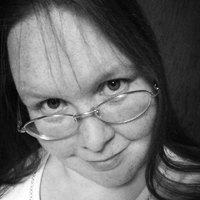 Scarlett R. Algee has had her work appear in several places, including Sanitarium Magazine, Body Parts Magazine, The Sirens Call, and the recent anthologies Zen of the Dead and The Haunting of Lake Manor Hotel.
When not reading, writing, editing, or performing her duties as an avatar of Nyarlathotep, she lives in the wilds of Tennessee with a Hound of Tindalos cleverly disguised as a beagle.
For Season 7, Scarlett acted as an Assistant Librarian, helping the Librarian sort through all the submissions and struggle to narrow them down to just 24 episodes.
---
STORIES ON THE WICKED LIBRARY: